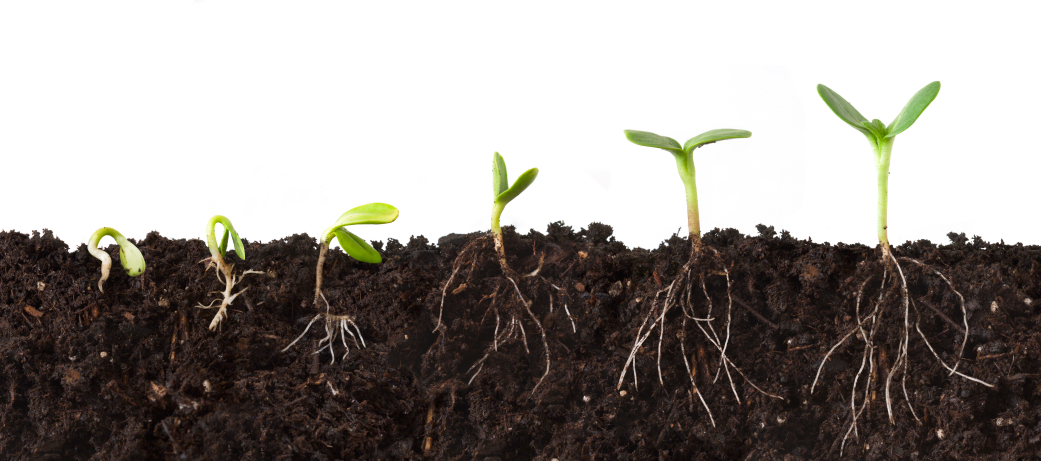 As Winter's brisk air starts to warm and March winds blow Spring in, the time to sow our seeds begin.
Here at the Food Co-op we are feeling the affects of the new season as local greens and radishes start to decorate our produce cooler. Though we mostly offer food in it's harvested form, we find it important to share knowledge pertaining it all things food, including how and where food is produced, with our valued Co-operators. With that said and in light of the season, today we wish to share with you, especially those beginner gardeners out there, a guide to building and maintaining healthy soils…
Nourishing a Living Soil Community
Soil is a living ecosystem that is home to earthworms, insects, bacteria, fungi, and other microorganisms. A balanced and healthy soil life produces soil nutrients, aids in controlling disease, improves soil structure, retains soil moisture and helps to reduce workload.
Should I get a soil test?
At first, soil tests can be confusing to read and may over complicate gardening. On first season beds, focus more on strengthening soil ecology.
-Soil testing is recommended after a bed's first growing season or thereafter.
-Fertilizer needs are best determined by a soil test.
-Add fertilizer only if a nutrient is deficient and only add what is need-ed, not more.
-Support independent labs such as Logan Labs. A standard test is currently $25 dollars
Understanding Garden Happy Soil
A healthy balance of air (25%) water (25%), organic matter (3-4%) and minerals (47%) is needed for the ideal structural and functional environment for plant roots in gardens.
Soil Types
-Clay- Small particles, sticky when wet, holds water and nutrients well, poor drainage and low oxygen.
-*Loam- Dark color, soft and crumbles easily. Ideal soil type for gardening!
-Sand– Large particles, gritty, doesn't hold water and nutrients well.
Soil pH
pH is a measure of acidity or alkalinity of a material. The pH scale ranges from 0-14, with 7 being neutral. A pH of 6.0 to 7.2 is optimal for the growth of most garden and landscape plants. How-ever, soil pH in the range of 7 to 8 is adequate for many plants, as what is commonly seen in Colorado.
The major problem created by alkaline (high pH) soils is the reduction of nutrient availability to plants.
Soil Compaction is a reduction in large pore space, which leads to…
-Decreased drainage
– Decreased oxygen levels
-Decreased rooting volume
-Limits water and nutrient uptake
Building and Maintaining Healthy Soil
Prevent Compaction
-Create walking pathways
– Stay off wet soil
– Apply organic amendment (compost)
– Avoid excess tilling, destroys soil structure
To Till or not to Till
-Tilling destroys soil community and soil structure.
– Not recommended unless starting a new bed, if necessary, only first few inches.
– Creates a bacteria dominate community, more ideal for weeds than vegetables.
The Magic of Mulch
-Maintains soil moisture/ cuts irrigation needs
-Creates and nourishes ecological environment by feeding microbes
-Blocks weeds
-Prevents erosion
Blanket the top of soil with a thick (3-4in) layer of leaves, grass clippings, wood chips, or straw.
Do not till in non-composted mulch materials.
Try using a "green manure" as a cover crop. Broad-cast seeds of clover, rye, barely, or wheat grass over your soil for nourishment and protection.
Adding Organic Matter
An organic amendment, such as compost, is an important energy source for the living soil community such as bacteria, fungi and earthworms.
Organic matter improves soil structure in both sandy and clayey soils. It improves water infiltration, drainage, air infiltration and improves rooting volume.
Be aware of over-amending!
When adding organic matter, in any given year, use no more than:
1" animal-based compost or manure
2" plant-based compost
Over amending can result in
-High salts
– Excessive nitrogen
– Low nitrogen
– Micro-nutrient imbalance
Though adding an organic amendment such as compost can work wonders on building soil health, too much of a good thing can have a negative impact.
Adding Minerals
Mineral rich solutions may be added to soil periodically to give plants an extra boost.
Some examples include…
– Liquid Kelp: Good source of micro-nutrients for immunity boost
– Compost Tea: Good source of nitrogen and living microbes
– Vermi-compost Tea: Enhances plant defenses against disease and improves crop yield
Don't forget to stop by and pick up some organic seeds!
Happy growing Co-op friends!